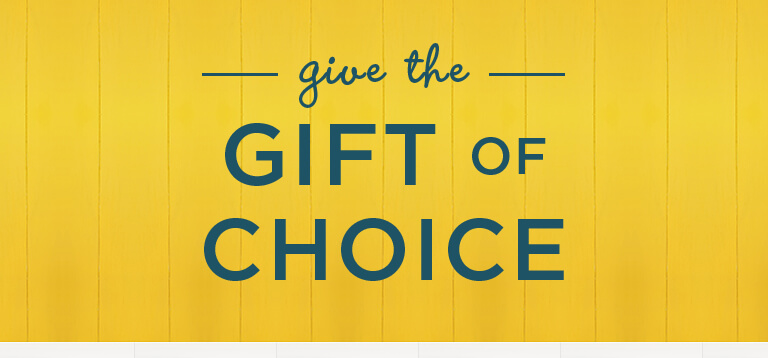 Gift Cards
Stuck for gift ideas? Let your loved ones choose their perfect gift. Simply send them a Joyce Mayne gift card.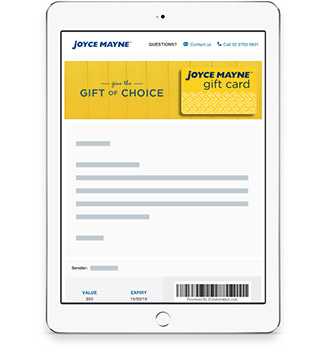 e-Gift Cards
Fast delivery by email
Send to any email address
Use online & in store
Shop Now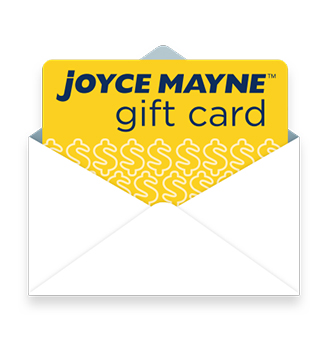 Gift Cards
Sent via registered post Australia-wide
Comes with a matching envelope
Use online & in store
Shop Now
Already have a Joyce Mayne Gift Card?
Find out my gift card balance
Step 1

Select your items and continue to checkout.
Step 2

Select Use a Gift Card on the cart page (just below Pick-Up or Delivery).
Step 3

Apply your gift card code. The gift card amount will be deducted from the total amount and you can complete the checkout process.
If your gift card amount doesn't cover the entire order amount, you can continue to checkout and pay the balance using other payment methods, including credit card.
Need a great gift idea?
Save time and hassle by choosing a Joyce Mayne Gift Card!
A Joyce Mayne e-Gift Card can be sent straight to you, or to another nominated email address, and can be used either in store or online. If you'd prefer, you can also have a physical Gift Card posted to your chosen address. Joyce Mayne Gift Cards are an ideal present for any ocassion.
To save time, you can even check the balance of a Gift Card online by following the instructions above.
If you need something a little more specific, you can also purchase other options Gift Card options like Xbox Live Subscription cards.
↑